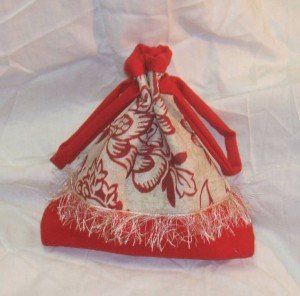 I have always enjoyed making things for other people. So, my main goal is to make a purse or bag that is personal, that fits an individuals personality, or needs.  Hand made quality is also very important to me. I love the finished look of a purse that is lined.  A lot of mine are machine quilted inside as well.
I have really been enjoying myself when making these purses.  To me this is an art form.  I have collected lots of patterns, however, I hardly ever follow any pattern the way it is written.  I enjoy the challenges of figuring out a different way to make it mine.  For the most part I just use the pattern to get inspired with my own creativity.
I have been collecting fabric, buttons, beads, lace, and trims for a long time now.  Most of my fabrics are remnants I have found on sale in fabric stores.  Some have been donated to my creative cause by family or friends, usually when they clean out their own stash.  I could be considered a pack rat when it comes to sewing supplies.
My daughters have been a big help to me in picking out fabrics and trims to go together.  We like making our own new trends.  I'm sure their influences will continue as the years go by.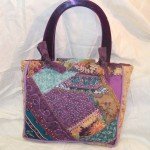 I have kept the pictures of the purses I have already sold, so you can see a lot of ideas and styles.  If it is already sold I may be able to make another one.  Sometimes, however, I won't have the same fabric.  I'm always happy to make simple changes, such as extra pockets or different closures.  Custom orders are welcome, as long as I don't make more than three or four of the same thing and it is understood that I'm the only person sewing, so  you might have to wait for me to make it.
Enjoy shopping.  And if you need to contact me about an order, send me an email or pick up the phone, I'm always happy to talk to you.
Creatively yours,
Leslie Flores